Port General Description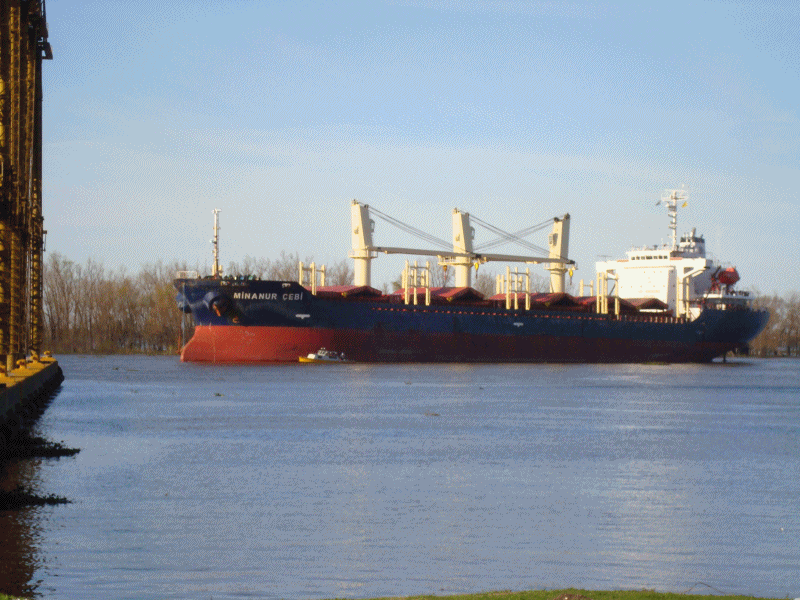 Infrastructure and berths
The port has two inner harbours, one of them for oversea vessels with a wharf that is 210 meters long, a maximum draft of 30 feet, and the other one for coastal trade with a berth front of 160 meters and 11 feet deep. The entrance of vessels is done by a short access channel, dragging anchor first and then maneuvering backwards in order to place the vessel inside the inner harbor, docking it on port side over the fiscal wharf number 1, where the elevator facilities of the ex National Assembly of Grains are settled.
Overseas Berth
It is 216 meters long, built entirely in concrete and cereal cargo operations are made from this berth. It is provided with mooring and lateral defense of cylindrical rubber for protection. Over this berth there is the ex National Assembly of Grains, which currently manages the firm San Pedro Port Terminal.
Headboard Berth
It is 85 meters long, settled parallel to the river, operating vessels 160 meters long without problems. This berth is used for general cargo, currently with citric and meat cargo by the use of cranes and auto-elevators. The supplying of the vessels comes from trunks or fiscal stores. This berth also has moorings and the appropriate defense.
Quay number 2 and headboard berth are 85 meters long, in parallel to the river. They are used for discharge of round stone and general cargo. The inner harbor of coastal trade is settled between quay number 1 and quay number 2, operating sand vessels.
Operative
San Pedro Port currently operates with palletized citric and cereal in bulk. There are also sand barges installed at the port. The charge rate of fruits is 45 pellets/h, a significant amount taking into account the lack of modern infrastructure for this kind of operations. The lack of technology is replaced by the high trained personal appointed for this assignment.
Terminal Puerto San Pedro S.A. is the licensee of the grain elevator that operates the direct discharge on vessels. It has a storage area, air and underground silos with a storage capacity of 120.700 tn. It also has 7 telescopic tubes of 18 meters with a charge rate of 1.200 tons/h. The daily reception of grain for storage can reach in 12 hours of work 10.500 tons. There is also a parking space of 500 m2 capacity for 700 trunks. It is placed 500 meters from the plant and offers services for drivers, locker rooms, bathrooms with showers, thatched barbecue area, tables and seats, security service and vigilance 24 hours a day.
As regards vessels services, there is a road permitting the dock of three vessels waiting for charge/discharge and an auxiliary road for fuel supply. The depth of the access channel allows the autonomous maneuver of vessels, making it not necessary to use barges. It also provides fresh water to vessels and owns an insurance against fire.
San Pedro Port has a lightning system, in accordance to international requests, allowing charge at night. It also owns three storehouses for storage of general merchandise. Two of them are located at quay number 1 and the rest at the head of quay number 2.They are built in masonry, with cement floor and sheet roof.
Port equipment
- Crane on Nelson tires with hook.
- P y H Crawler crane, 155-A model.