San Nicolás Puerto Nuevo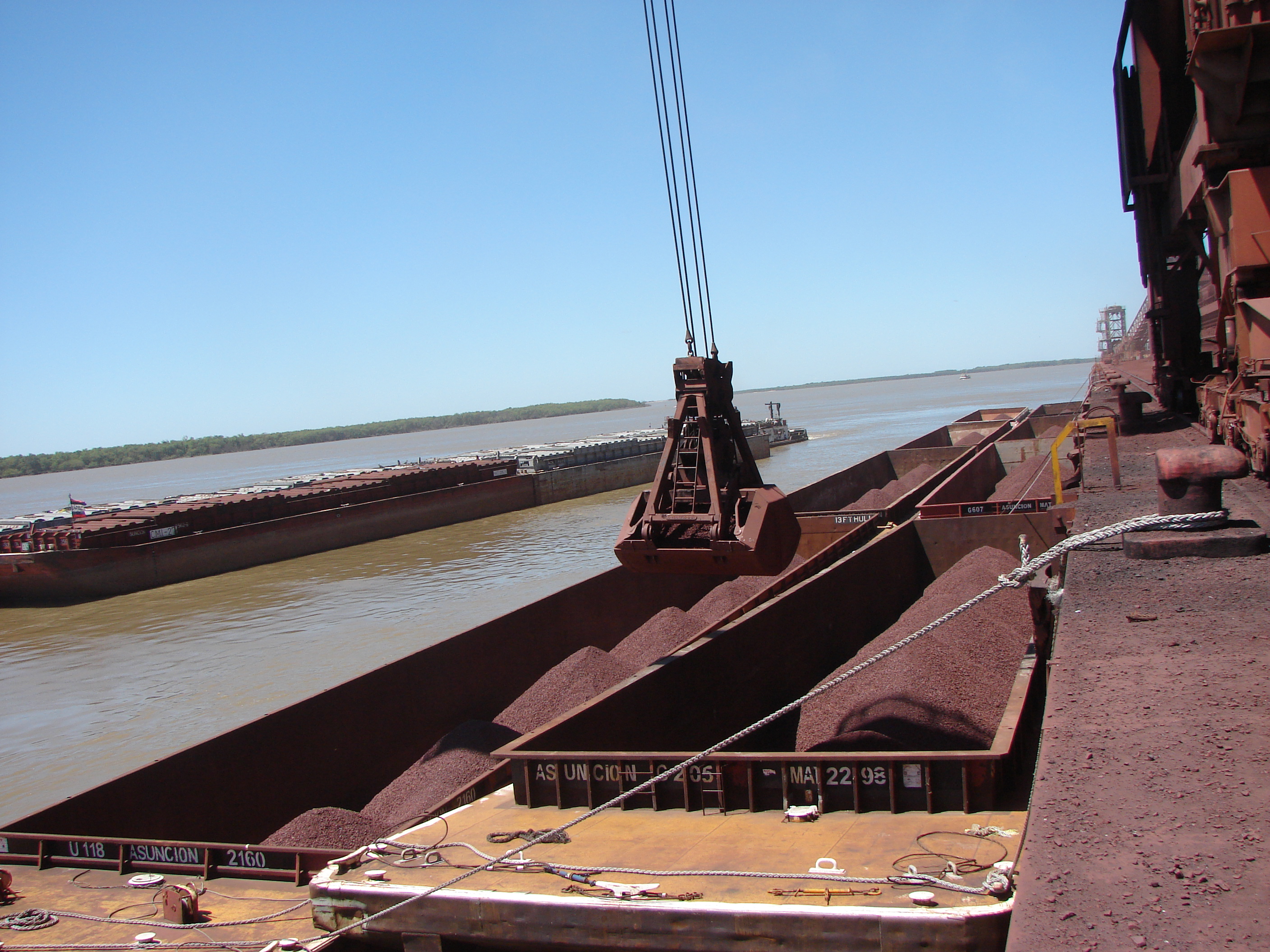 Location:
464 Km 2.1 Rio Parana and Rio Coronda spring composed of 4 dolphin support united together by metal gangways, davits 3 offshore capacity of 2000 MT / hour each, over 24 meters, has telescopic tube, with a scoop trimmer. Capacity shipping wheat and 1800 MT 1400 MT per hour per hour in soy flour.
Draft in spring is 10 meters and has a air drafts of about 24 meters. Taking into account a height of 2 Puerto San Lorenzo M. Moorings are permitted to ship a maximum length of 275 meters. Charging for a product at a time and with one hand.
Port General Description: The port consist of four sections which from North to South are as follows:
a) Km 352 Puerto Nuevo (New Port) Open quay berths (A.P.B)
b) Km 349,5 Grain Elevator berth (A.P.B.) - PAMSA Terminal
c) Km 347,5 Central Termica San Nicolas – Power Station.
d) Km 344, 5/347 Ing.Buitrago Port- Steel Plant, Import/Export berths.
a) Terminal New Port: Long, 40 m wide and equipped with 6 good dockside luffing cranes of 20-27 ton SWL, having available 11 grabs of 1-10,5 cbm capacity. Additional equipment includes 2 mobile cranes 7-30 ton SWL; 4 f/l trucks 7-10 ton SWL and 2 diesel railway shunting engines. At operators are Administracion Portuaria Bonaerense (A.P.B.).This is a solid reinforced concrete quay, 537 m the rear of the quay and at its mid point, Messrs Servicios Portuarios have built 4 grain silos, total 20.000 ton capacity ,which, via a series of loading arms and portable conveyor belts can load vessels berthed alongside average load rate about 800 TPH. In addition to grain, exports from the Puerto Nuevo berth include zine concentrate and transshipment of manganese ex Corumbá (Brazil), also fertilizers whilst imports include steel slabs, profiles and billets. There is a very large open and containers. Grain exports in 2008 amounted 346.000 ton. Mineral cargo movement (exports and imports) in 2007, amounted 1 millon ton.
Additionally, a new fertilizer plant (Profertil) operates from this quay, beginning in May 1998. Storage capacity 175.000 ton solid and 32.500 liquid fertilizers; discharge rate 350 TPH (solid) and 600 TPH liquid. 2008: a total of 205.000 tons received.
b) Grain Elevator: Also operated by Administracion Portuaria Bonaerense (A.P.B). Berth consists of 2 dolphins, each 10 m frontage, 143 m apart, whit outlying bollards 60 m beyond dolphins. Vessels of 250 m LOA have berthed. Loading is via an overhead gallery supported by 6 towers. Each fitted with a telescopie chute and fed by 2 conveyor belts. Average loadrate 1400 TPH if grain taken from main silos (storage 40.000 ton) or 700 TPH if grain taken from auxiliary silos (storage 57.000 ton). Grain exports in 2008 amounted to 250.000 tons.
c) Central Termica" Power Station: Quay is reinforced concrete 200 m length. Originally built to receive equipment for power station whilst building and now used to receive coal. Quay equipped with 2 Demag cranes fitted with 5 cbm grabs, 15 m outreach and conveyor belts. Also one fixed ton crane which out of order. Disrate coal about 7000 ton per day with 2 holds 2 cranes. Theres is an adjacent 180.000 ton open coal storage space. Coal imports are presently from Colombia, Ausrtalia and South Africa, as coastwise home trade from Rio Gallegos.
This plant operates on gas, but in winter time is also fuel oil consumption, which is supplied by vessels tankers coming in and there connecting lines 10 and 14 inches for download tanks on land.
Messrs Casport S.A. the same management since 2005, making receipt of fertilizer there is discharged through vessels and iron ore Arrive from the waterway from Corumbá (Brazil), for transshipment to Europe.