Rosario Port General Description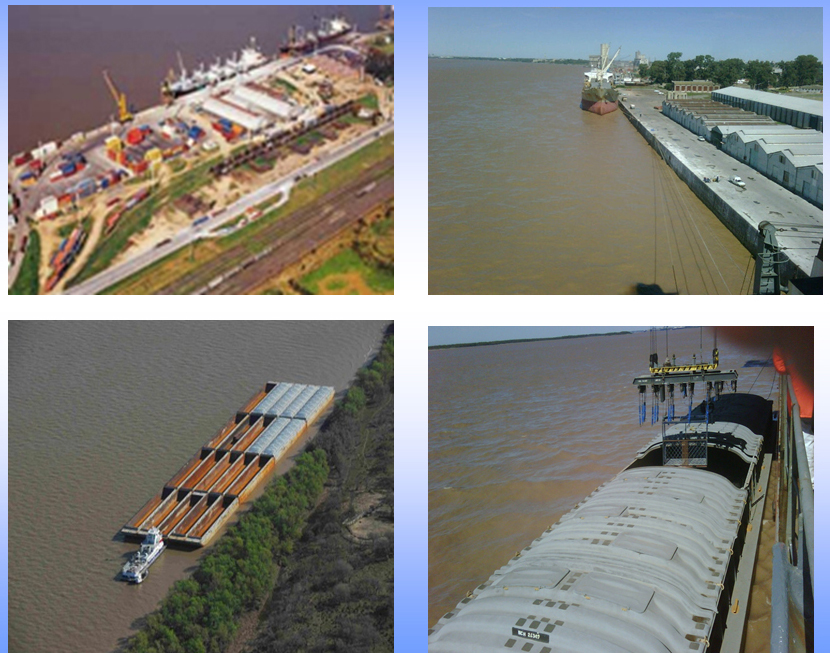 The importance of the city as a port has diminished in recent years due to the building of modern, more efficient grain terminals at San Lorenzo and San Martin to the North and Punta Alvear , Alfred Toepfer Int., VGG Cargill SACI' Terminal and General Lagos (Grains, sub-products and Vegetables oils Terminals) to the South, although the terminals to the South remain under Rosario customs jurisdiction. The trade in bagged cargoes died away, leaving the old city wharfs largely idle except for seasonal shipments of sugar, citrus, Mineral heron and most cargo operations, other than grain, have been carried out at the New (South) Wharf.
The current port authorities, ENAPRO (Ente Administrador Puerto de Rosario) , the public entity appointed to administer the port when the state relinquished control in 1994, has handed out in concession through a public tender the port operation for 30 years to the Tarragona Port Authority as from October 17th, 2002.
Today 2009 the Terminal Rosario Port was change official Authorities expecting to doing more efficient port operations with steel billets, sugar, general cargoes, vegetables oils, fertilizers, etc arriving from another countries and/or for transshipment. According Port Authorities rules the maximum drafts into this terminal is not more than 30 fee, and they have an capacity of 80000 tons of sugar from Messrs Concepcion and Ledesma sugar Companies. The steel billets is operator by Messrs Gerdau Sipar whom your Industrial Plant into Perez City about 20 km. from de Port. The vegetable oils is loading and/ or unloading by Messrs Aceitera Gral. Deheza S.A. with a capacity of 65000 Tons of vegetable oils such as Soya beans oil, sunflower seed oil, peanut oil, etc.
From North to South, these can be conveniently divided into 5 groups.
a) Elevator cliff berths
b) City gen cargo wharfs
c) MOP Berths
d) New (South) Wharf
e) Grain Elevators VI and VII

a) Elevator cliff berth:
UNIT III - Km. 423:
Elevator built in the 1940`s and purchase from NGB by Servicios Portuarios S.A Vessels berth on two concrete dolphins 80 m apart with outlying mooring dolphin/chains North/South for head/stern lines. Vessels of 220 m have berthed.
Loading from silos is via 2 conveyor belts of loading derricks fitted with vertical telescopic chutes, being lowered out over the vessel. Derricks have limited horizontal movement
Requiring vessels to shift on berth to bring holds under the chutes. Load rate 850 TPH
Storage capacity 82.000 ton. Depth alongside at datum reportedly 9.10 m (30 ft); air clearance approximately 17 m at datum. Fresh water available on berth. Shore gangway available. Unavailable for bunkering and fresh water.
b) City wharfs:
The City Wharfs, in conjunction with the New (South) Wharf, are part of the failed and reassigned concession. The city wharfs were used for loading citrus and bulk sugar, whilst the South Quay is suitable for discharging bulk cargoes such as fertilizers and steel billets and loading vegetables oils from the adjacent storage tanks.
PARAGUAYAN and BOLIVIAN FREE ZONE: Km. 417
Wharf about 300 m in length down by barge from Paraguay and Bolivia and transshipped/stored in elevator and thereafter exported on ocean going vessels;
However there has been no activity quite some time.
c) MOP berths:
These berths belong o the Ministry of Public Works and include repair/dry dock facilities for small vessels also repair / assistance Parana – Paraguay water way repairing light buoys, etc.
d) New (South) wharf (Known as `Guide Plant `):
Length`570 m, of reinforced concrete on pilings with inset about 150 m from north end due to quay damage. It is a wide, open quay fitted with 2x12, 5 ton SWL luffing cranes equipped with grabs. Two vegetable oil pipelines from adjacent storage tanks of 18.000 ton capacity belonging to GUIDE are situated adjacent to South end of Wharf. Vegetable oil loaders call regularly; load rate about 350/500cTPH. Vessels operate second off if necessary. Depth alongside at datum about 6,10-7, 60 m (20-25 ft) and height of the quay surface above the local datum( zero) level is 7,35 m (24 ft) as are the majority of the quays at Rosario. As said, this wharf has been reassigned to a new concessionaire.
Also the new Conceptions Owned Operators Containers having into area port a big containers station where load and unloading inside of primary Custom zone. This Containers arriving from Asunción Paraguay, Buenos Aires, Montevideo Uruguay with different goods for another provinces inside of Argentina and /or in transit to Mercosur (Brazil / Paraguay/ Bolivia/ Chile/ Uruguay).
e) Grain Elevators VI and VII ( Concession Messrs Servicios Portuarios S.A)
Terminal UNIT VI:
Following gallery damage by collision in April 1995 repairs were carried out and this elevator resumed loading operations in March 1997. Elevator constructed about 50 years ago. Berthing is alongside 4 dolphins, length overall about 250 m. Berth served by two inclined loading conveyor belts, leading from silos to overhead loading gallery, which supported on 8 towers, fitted with 8 telescopic chutes. Storage silos capacity 120.000 ton. Average loading rate about 1200 TPH. Quay fitted with both broad and narrow gauge railway sidings.
Terminal UNIT VII :
This actually without operations due to very important damage at berth due to vessel's collision and the actual owned Messrs Servicios Portuarios S.A., remains without operations, ex NGB elevator, as well as Unit VI , taken in concession for 25 years as from 1966 by Servicios Portuarios S.A Built on a reinforced concrete wharf having good , this berth lies at an angle to both Unit VI and the river current and is the southernmost of all the city port installations. Length overall about 250 m. Loading via 7 telescopic chutes with outreach 21 m direct from elevator . Storage capacity silos 80.000 ton. Average loading rate 1200 TPH. Depth alongside 7,90 – 9 m (26-29`6") at datum; air clearance at datum about 22 m.