Molinos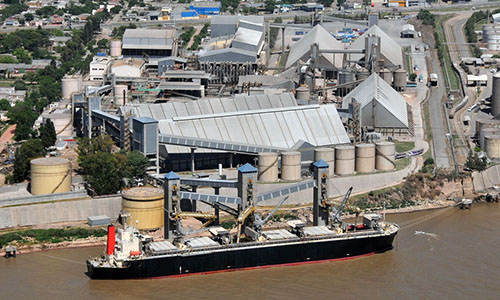 As a result of soybean and sunflower seed mil processes, Molinos Rio de la Plata introduces its wide range of flour and bulk oils for international market.
Soy Hipro Flour (47%)
Soy Lowpro Flour (44%)
Soy peel pellet
Sunflower pellet
Soy crude oils
Sunflower crude
Refining soy
Refining sunflower
San Benito Port
San Benito Port, part of San Lorenzo plant, located at the bank of Parana river, at 441.5 km San Lorenzo Port, Santa Fe Province, started in march 2005. Dedicated to soy, it offers customers the ultimate conditions for goods charge, in an atmosphere of excellent quality control and security.
Main features:
Charge rate: 7 millions tons/year
Maximum length of vessels: up to Cape Size (270 m)
Dry and liquids port
By-products storage capacity: 170.000 tons
Oils storage capacity: 54.000 tons
Biodiesel storage capacity: 10.000 tons
Berth front: 145 m
Load of flour by two lines, charge rate 2000/2400 tons/hour
Load of oil by two lines, charge rate 800/1000 tons/hour
Load of biofuel by one line, charge rate 400/500 tons/hour