Louis Dreyfus Argentina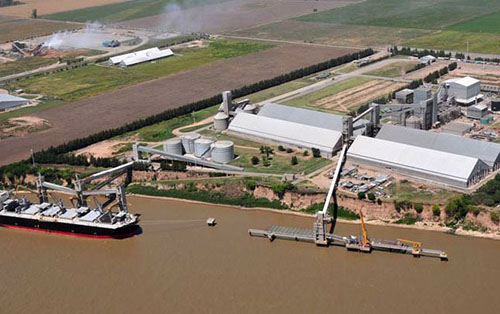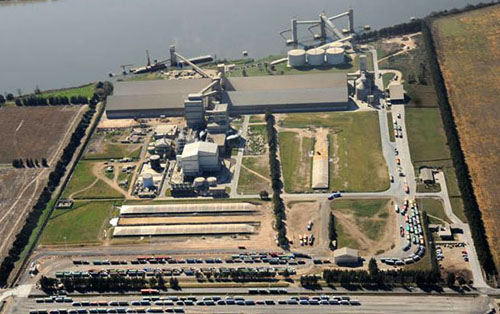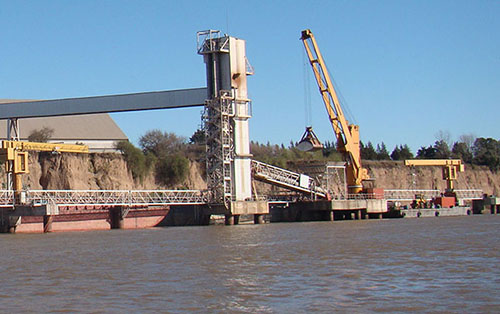 Location:
464 Km 2.1 Rio Parana and Rio Coronda spring composed of 4 dolphin support united together by metal gangways, davits 3 offshore capacity of 2000 MT / hour each, over 24 meters, has telescopic tube, with a scoop trimmer. Capacity shipping wheat and 1800 MT 1400 MT per hour in soy flour.
Draft in spring is 10 meters and has a air drafts of about 24 meters. Taking into account a height of 2 Puerto San Lorenzo M. Moorings are permitted to ship a maximum length of 275 meters. Charging for a product at a time and with one hand.
This terminal has four storage cells 100,000 Tons of them are soy flour, soy bean 85,000 MT to 100,000 tons for grain and soybean husk pellets and 80,000 Tons of four wheat-based cereal. Oils: Storage capacity plant in 3 tanks each of 13,000 m3, 8500 m3 for a vegetable oil, soya beans oil, sunflowers oil, etc total 47,500 tons, 43.700 tons of soybean oil. Crushing capacity of 8000 tons of soybeans per day. Online boarding facility from 12 inches reaching manifold of the ship from where connections can be drawn 2 and 6 of 8 inches the oils are loaded at a rate of 800 tons / hour 24 hours a day.
Drying plant it has a grain dryer, brand Mega 300 tons / hour with 3 vertical silos of 6,000 tons ea for storage. The extra cost to operate in this terminal during the week is 1800-2400 and 0000-0600 at a rate of UD.1750 / Shift by each / 6 hours. Idem General Terminal Lagos. Saturdays and Sundays and holidays at the rate of U$D. 2500, - per shift of each / 6 hours. Terminal has no elements to provide fresh water and is not allowed to discharge slops or bunkering in the vessels is moored at dock.