Cargill SACI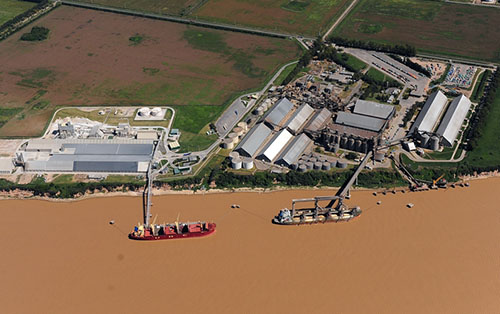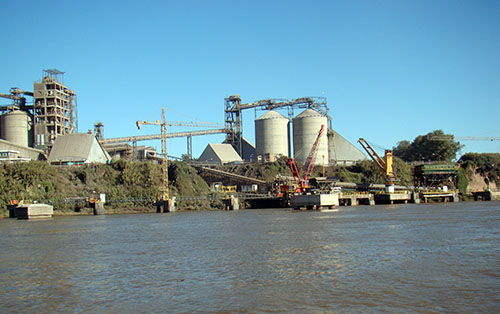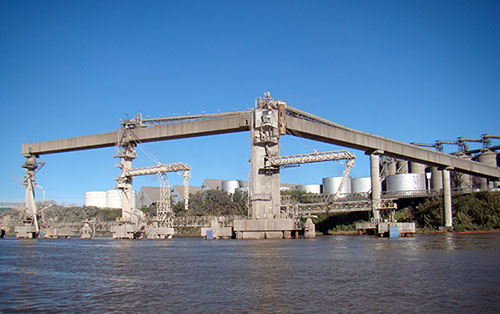 Terminal for grain, by products and vegetable oils owned by Cargill.
Berth: 4 reinforced concrete dolphins. Length overall 230 m with two outlying mooring dolphins, suitable for vessels 250 m LOA. Depth alongside reportedly 9, 10 m (30ft) at datum; air clearance 21 m at datum.
Cargo transferred from silos/flats by inclined conveyor belt to loading gallery. Gallery supported on three towers stepped alongside dolphins and towers fitted with one multidirectional loading arm (northem end) and two teles copies chutes. Outreach arm 22m ;chutes 20 m. Average loading grain 1000 TPH, by products 600 TPH, one product at a time. Silo storage capacity 580.000 tons grain/by products.

Reception 15.000 ton grain per day ex trucks. Parking space 500 trucks. No railway sidings. Berth fitted whith 1 x 2" pipeline for loading soybean oil from storage tanks with total 30.000 ton capacity. Average load rate 900 TPH.
Working hours: M/F 06:00/14:00 14:00/22:00 Sat 06:00/12:00 Remainder overtime.
Exports 2001. Approximately 3,75 millons tons grain/by-products and vegetable oils. Fresh water available ,shore gangway available. Bunkers by barge only subjeet Terminal Operator`s approval.
Quebracho Ferthilizers Port:
This terminal is situated immediately south of the Cargill grain terminal. The berth consists of 3 dolphins offering a berthing a berthing front of 130 with 2 outlying mooring towers, giving an overall length of 270 m, depth alongside 11 m; fresh water and electric power available at pier; fitted with hoppers and conveyor belts to permit grab discharge of fertilizers to a 120.000 tons capacity deposit; discharge rate 500 tons/h. As per Coastguard dispositions, the berth is suitable for vessels of maximum LOA 210 m and 42.000 tons displacement. In 2008 imports amounted 404.000 tons of Urea and other fertilizers.