Cargill SACI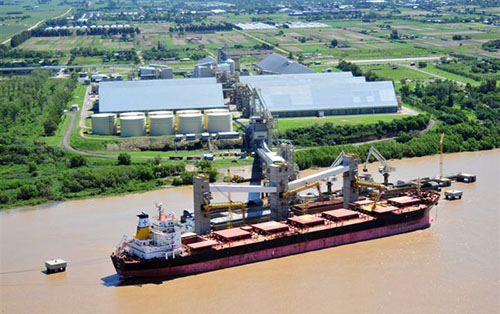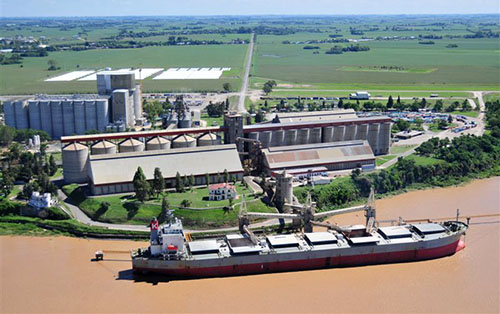 Owned Terminal M / S Cargill S.A.C.I.
Established on February 2005 at Villa Gobernador Galvéz City . Terminal consists of a dock for ocean-going vessels with a capacity of loading / shipment of grain and 1200 MT per hour with 2 pipes boarding and a reception capacity at the plant by trucks, barges or rail of approx. 140,000 tons of grains and by-products. Vessels entries are unrestricted, daytime, evening, and also has no restrictions on maximum drafts and / or length overall for berthing and/or sailing
It has 417 km in the Alvear Roads allowing 2 berth looks and 2 in which we provide in terms of local movements for ship berthing and unmooring, that when there is saturation can be achieved using the principal Roads at Rosario from where the ships should fall down and come- back to enter the access to Punta Alvear or VGG Terminal of Messrs Cargill SACI.
Has on the inside of barge unloading dock warehouse, which from the waterway, Bolivia, Paraguay and Brazil arrive with soya beans and are unloaded in 3 hours x average of 1500 MT each barge, Merchandise for transshipment in the dock for an ocean vessels or to the same Terminal crushing and subsequent re-shipment of vegetable oils.
Terminal Cargill SACI - Punta Alvear (km 406): This grain terminal is approximately 15 Km down river from Rosario and owned by CARGILL S.A.C.I. Vessels berth on 4 interconnected dolphins ; berthing frontage 175 m with outlying head/stern morning dolphins; overall distance between mooring dolphins 270 m. Cape size vessels berth. Loading is via two inclined conveyor belts to the central tower of the loading gallery, the gallery being supported on three towers stepped alongside the dolphins. Towers are fitted with three multi-directional loading arms, maximum load rate 2000 TPH , and can load products simultaneously. Depth alongside at datum 10,36 m(34 ft); air clearance at datum 21m . Terminal storage capacity 400.000 ton. Parking for 3000 trucks, convoys of 30 railway wagons. Has adjacent quayside road giving access for stores, bunkers (long length hose required), however weight on viaduct joining road to alongside ship's stern to 2, 5 ton. Vessels supplying with Fresh water by barge only. There is an anchorage off the port for one vessel only, in case that Shippers needing more space for another vessels awaiting for loading they have also assigned Rosario Principal Roads too.